---
Niche Dealer Big Bale Co (South) Ltd Builds Strong Reputation with Ibcos Gold
Big Bale Co (South) Ltd is an agricultural square baling equipment dealer based in Hampshire, with technicians servicing Hampshire, Lincolnshire and Yorkshire. Priding itself on superb customer service, Big Bale has sold more than 1,000 new machines since its inception. We had an opportunity to speak with Michael Coleman, the Owner, who told us about how Gold helps him stay current in a niche industry…
Can you tell us a little about the history of Big Bale?
Michael: "In 1983, I spotted a niche in the baler market, so I started importing the machines from America. I've seen great changes and growth over the years, the switch to Ibcos Gold was a significant moment in the company's history. It was the moment when the management system caught up with everything else and the company could finally live up to its own expectations and have the strength of its own convictions." 

What company milestones are you most proud of?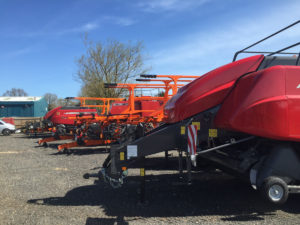 Michael: "There are two that immediately spring to mind. Buying into bale collecting machines in 2009 was a real milestone that resulted in phenomenal growth.
Also, offering yearlong placements to Harper Adams University students in Shropshire has proved a real eye-opener, especially for the older generation. Having said that, the whole company really benefits from the influx of young blood, and all the enthusiasm and new ideas that that entails."
Tell us a little about the machinery you sell and the services you provide.
Michael: "We only sell and service balers, so if the demand for balers were ever to dry up, we might be in a bit of trouble. However, sound judgment, a good attitude and a little bit of luck have given us a strong foothold in the industry, so at least we'd be one of the last to go!
If people want a Hesston baler, which is made by Massey Ferguson, we make sure to meet their needs. We also have so many parts for balers – over half a million – that sometimes when they run out, Massey Ferguson come to us for spares.
We also have six vans ready to travel anywhere in the UK to fix balers. Our chaps will leave at 4am to be on a farm by 7, seven days a week. That's the kind of service we are proud to provide."
The reputation of a service department can literally make or break a dealership.  What steps do you take to ensure you're providing the best possible service and what sets you apart from the competition?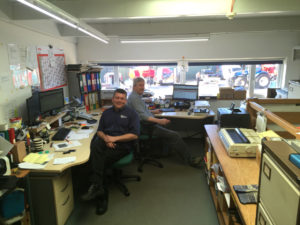 Michael: "Knowledge and response. Whoever picks up the phone is able to improve the situation. If someone needs a part and we happen to be closed, I'll put the part in my car and deliver it myself. Customer service is absolutely key to surviving in this industry, so we know we have to make every second count."
What type of dealership management system were you using before Gold?
Michael: "Before Gold, we were using Pegasus to manage the business, it was primarily an accounting package and wasn't particularly suited to an agricultural dealership."
How did you first hear about Ibcos?
Michael: "When we started looking for a new dealership management system, I asked all the other local dealers what they ran and they all recommended Ibcos Gold. It was a lot more versatile than what we were used to and it did absolutely everything we asked of it."
Can you describe how you use Gold on a daily basis?
Michael: "Our parts department uses Gold to order and check stock and to sell point of sale parts. We use the wholegoods module to understand the true cost of things. Our accountant uses Gold to organise and manage receipts and statements, and to run invoices once a week for point of sale or wholegoods.
"We're a niche business – not only do we sell new and used balers, but we own machines that hire out – and Gold was easy to adapt to our specific needs as a baler dealer. We use Gold daily, we're very happy with it and we wouldn't dream of changing systems."
What was your experience with the Ibcos implementation and support teams?
Michael: "It was an interesting experience. Nigel Crossley had instigated the project, as it had been chaos on our end, but the support and intuition of the Ibcos team was good. The response is always good. I even recommended Gold to Big Bale North and I'd recommend it to other dealers too. The whole package works."
What are the next steps in your long-term technology strategy as you continue to grow?
Michael: "We will be focusing very much on cost. Changes in the agriculture industry have really brought that home in the past 18 months. Right now we're doing everything we can to cut and monitor costs, and Gold has been very helpful in that regard.
"Also, the business needs to be more instant and automatic. We need to be able to send stuff electronically. We've just issued everyone in the workshop with smart phones, which opened up lots of new possibilities. We have also fitted trackers in the vans so that we can give an ETA without bothering the technician, and when the time is right, we'd like to integrate Ibcos' Workshop Scheduler to simplify the way we book jobs. I also see a lot of value in the Workshop Barcode Time Clock, which would save us loads of time logging technicians' time."
What advice would you give to other dealers looking to grow their business and reach their objectives?
Michael: "Expansion is a personal journey for everybody. Reputation is key – as a dealer, you have to deal with things and you have to deal with them well. You get more kudos from solving a problem well than from getting it right in the first place. It's all about customer service and the quality of your response, every single time."