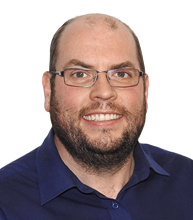 Poole, Dorset, April 26, 2018 – Ibcos Computers Ltd., a leading business management software supplier for agricultural, groundcare, and construction dealers, is proud to announce that Mike Jones is taking charge of its software development team as the new Development Manager.
Jones' primary responsibility is to ensure the team has the skills, knowledge and ability to make Ibcos Gold, the company's dealership management software, the best product it can be.
"I am very excited at this opportunity," said Jones. "I look forward to being part of the next chapter of Ibcos and the Gold product."
Since joining Ibcos in 2016, he has been heavily involved with the mobile and web components of Ibcos Gold, which are recent software initiatives.
Over the course of his 20-year career, Jones has worked with plenty of blue-chip customers, delivering high-quality software with great user experience. He's held leadership roles at software companies, including Abel Learning and Chevin Fleet Solutions, in addition to working as a software engineer for several other organizations.
"Jones has a long history of success across a wide variety of businesses," said Collette Convery, the Managing Director at Ibcos. "I think we'll be seeing a lot of interesting product developments in the near future, which will hopefully excite and delight our customers."
When not at work, Jones devotes most of his time to his family, while the rest of it is spent on tinkering with old computers as he finds great satisfaction in getting them to work again.
Dealers who are curious about Ibcos Gold can learn more about it by visiting its website at www.ibcos.co.uk.
About Ibcos Computers.
For the past 37 years, Ibcos has helped agricultural, groundcare, and construction dealers manage their businesses successfully with Gold, a powerful platform based on industry best practices and standards. Gold has earned its reputation as the number one recommended dealership management software, providing single and multi-depot dealers with a consolidated business overview. With Gold, dealers can make better decisions and predict future outcomes based on real-time data.
In 2012, Ibcos was acquired by Constellation Software Inc. (TSX:  CSU) – an international provider of market leading software and services to a select number of industries, both in the public and private sectors. Constellation's mission is to acquire, manage, and build market-leading software businesses that develop specialized, mission-critical software solutions to address the specific needs of particular industries.