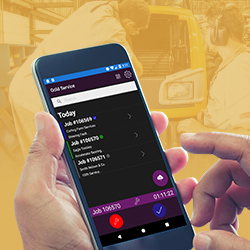 Poole, Dorset, August 27, 2018 – Ibcos Computers Ltd., a leading business management software supplier for agricultural, groundcare, and construction dealers, is pleased to announce the launch of its new Gold Service Mobile & Web Application, designed to help dealers make their workshop more efficient and profitable.
The new product is both a mobile app and a web browser interface. The mobile application, which can be installed on a tablet or a smartphone, allows engineers to log their tasks and hours from any location, at any time, removing the need for a paper job card. This helps them streamline the administrative side of their job and focus on what they are paid for.
The web-based portion of Gold Service is aimed more toward those working at the depot. Instead of waiting for an engineer to return with a completed paper job card, the team at the depot can access that data immediately through a web browser. This helps them save time on manual re-keying, allowing them to devote it to proactively engaging their customers.
"The whole point of Gold Service is to drive efficiencies in the workshop and help workshop employees become more effective at their jobs," said Collette Convery, the Managing Director at Ibcos. "Allowing them to share and view data over long distances immediately is one of the key ways toward achieving that goal. It's just another barrier that dealers no longer have to worry about."
Dealers who would like to know more about Ibcos Gold in general or wish to add the Gold Service app to their existing software package can do so by visiting Ibcos' website at www.ibcos.co.uk or contacting the Ibcos team at sales@ibcos.co.uk.
About Ibcos Computers.
For the past 37 years, Ibcos has helped agricultural, groundcare, and construction dealers manage their businesses successfully with Gold, a powerful platform based on industry best practices and standards. Gold has earned its reputation as the number one recommended dealership management software, providing single and multi-depot dealers with a consolidated business overview. With Gold, dealers can make better decisions and predict future outcomes based on real-time data.
In 2012, Ibcos was acquired by Constellation Software Inc. (TSX:  CSU) – an international provider of market leading software and services to a select number of industries, both in the public and private sectors. Constellation's mission is to acquire, manage, and build market-leading software businesses that develop specialised, mission-critical software solutions to address the specific needs of particular industries.