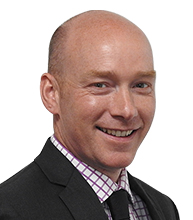 Poole, Dorset, July 9, 2018 – Ibcos Computers Ltd., a leading business management software supplier for agricultural, groundcare, and construction dealers, is pleased to announce that James Buchanan will be taking charge of its sales team as the new Sales Director.
James has occupied various leadership positions throughout his lengthy career, which makes his new role at Ibcos the perfect next step.
He began to show his leadership skills while working at Associated British Ports, where he secured the position of Operations Manager. This was both an operational and commercial role, which included dealing with imports, exports as well as cruise ship visits and turnarounds.
James then moved into retail store management for the Home Retail Group, and after that, account management at Würth UK. For the past six and a half years, he's been working for Kramp UK – first, as the Internal Sales Manager responsible for product and customer specialists, and then in a national role, which involved looking after account managers, alongside business solutions and retail consultants.
One of his proudest achievements was implementing several key process improvements at Kramp UK, which significantly enhanced the customer experience. To achieve that, he restructured and recruited a professional external sales team and developed a "customer-first" sales strategy.
"I am looking forward to applying my sales knowledge at Ibcos to further develop the services it provides to its customers," said James. "After all, Ibcos is an exciting company with a lot to offer to its dealer network. I relish the opportunity to learn more about the software industry and develop a sales strategy that will help grow Ibcos' customer base and do more business with its existing customers in the UK and Ireland."
When he is not busy working, James loves road and mountain biking in the UK and abroad, as well as running, regularly. He also enjoys exploring new destinations around the world and taking scenic photos of the places he visits.
Dealers who are curious about Ibcos Gold can learn more about it by visiting its website at www.ibcos.co.uk.
About Ibcos Computers.
For the past 37 years, Ibcos has helped agricultural, groundcare, and construction dealers manage their businesses successfully with Gold, a powerful platform based on industry best practices and standards. Gold has earned its reputation as the number one recommended dealership management software, providing single and multi-depot dealers with a consolidated business overview. With Gold, dealers can make better decisions and predict future outcomes based on real-time data.
In 2012, Ibcos was acquired by Constellation Software Inc. (TSX:  CSU) – an international provider of market leading software and services to a select number of industries, both in the public and private sectors. Constellation's mission is to acquire, manage, and build market-leading software businesses that develop specialized, mission-critical software solutions to address the specific needs of particular industries.