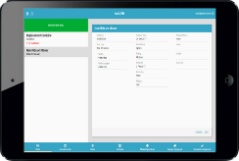 Poole, Dorset, February 13, 2017 – Ibcos Computers Ltd., a leading business management software supplier for agricultural, groundcare, and construction dealers, announced that its web-based CRM is now fully compatible with tablets, allowing users to access real-time customer data anywhere, anytime.
The CRM is currently available as an add-on to Ibcos Gold, the company's number one recommended dealership software, and accessible exclusively via a web browser, which means that users are not required to install any applications on their tablet.
Furthermore, real-time integration with Gold keeps the data up-to-date and free of errors, making the experience consistent across all devices.
"Tablet compatibility allows salespeople to communicate better with their customers and be more efficient with their time," said Collette Convery, the Managing Director at Ibcos. "Now they can pinpoint the hottest leads and have meaningful conversations with customers without being tied to their desk. No matter where they go, they'll always have customer information at their fingertips."
When it comes to features, users can view the equipment supplied by their competitors, set automatic reminders, manage customer profiles, manage their pipeline and share activity information with their team.
"The integration of the new web CRM with our existing data is in real time, which reduces a lot of initial inputting and housekeeping," said Graham Main, the Managing Director at Peacock & Binnington and Ibcos Gold user. "To help us increase sales, the CRM proactively targets our own customers using end-of-warranty and end-of-finance data. It also targets the competition by highlighting logged potential change dates and conversations from the past – as well as suggesting the appropriate actions when required.
The new system is definitely a big improvement, and we're looking forward to growing with it."
Ibcos will continue to modify the web CRM as time goes on to ensure a greater breadth of features and compatibility options. Dealers who are curious about Ibcos Gold or wish to add the web CRM to their existing software package can do so by visiting our website at www.ibcos.co.uk.
About Ibcos Computers.
For the past 38 years, Ibcos has helped agricultural, groundcare, and construction dealers manage their businesses successfully with Gold, a powerful platform based on industry best practices and standards. Gold has earned its reputation as the number one recommended dealership management software, providing single and multi-depot dealers with a consolidated business overview. With Gold, dealers can make better decisions and predict future outcomes based on real-time data.
In 2012, Ibcos was acquired by Constellation Software Inc. (TSX:  CSU) – an international provider of market leading software and services to a select number of industries, both in the public and private sectors. Constellation's mission is to acquire, manage, and build market-leading software businesses that develop specialized, mission-critical software solutions to address the specific needs of particular industries.