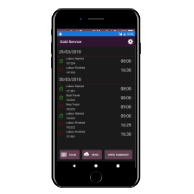 Poole, Dorset, April 16, 2018 – Ibcos Computers Ltd., a leading business management software supplier for agricultural, groundcare, and construction dealers, is proud to announce its new Gold Service application for tablets and smartphones, designed to help dealers improve their workshop productivity, cut down on equipment costs and bolster their bottom line.
Ibcos created the app to replace the paper job card, helping technicians to effectively manage and perform their daily tasks, without having to constantly run back to a computer terminal or deal with copious amounts of paperwork.
The Early Release of the application is already available, giving the users the ability to scan and upload workshop barcode data via Wi-Fi and Mobile Networks using either a smartphone or a tablet, which eliminates the need for purchasing and maintaining a regular scanner.
"The best thing is that we can run the application on the mobile phones our team already has," said Judith Loversidge, the Managing Director at G&J Peck and Ibcos customer. "We are already seeing plenty of benefits with this version of the Gold Service application and looking forward to the additional benefits it will bring to our business in the future."
Another Ibcos customer, Julian Folkes, the Service Administrator at Compass Tractors Limited, called the app "a vast improvement" over the workshop scanners they were using previously.
"Our engineers find the app very easy to operate," said Folkes. "Particularly when sharing their recorded labour hours over the network."
Of course, scanning barcodes is only one of many functionalities the app has to offer – with more on the way as Ibcos continues to develop them.
"Just like our Gold software, the Service application will be an always-evolving platform," said Collette Convery, the Managing Director at Ibcos. "As long as our customers continue to grow and provide us with their feedback, we will keep adding new features and capabilities to the app."
Dealers who are curious about Ibcos Gold or wish to add the Gold Service app to their existing software package can do so by visiting our website at www.ibcos.co.uk.
About Ibcos Computers.
For the past 37 years, Ibcos has helped agricultural, groundcare, and construction dealers manage their businesses successfully with Gold, a powerful platform based on industry best practices and standards. Gold has earned its reputation as the number one recommended dealership management software, providing single and multi-depot dealers with a consolidated business overview. With Gold, dealers can make better decisions and predict future outcomes based on real-time data.
In 2012, Ibcos was acquired by Constellation Software Inc. (TSX: CSU) – an international provider of market leading software and services to a select number of industries, both in the public and private sectors. Constellation's mission is to acquire, manage, and build market-leading software businesses that develop specialized, mission-critical software solutions to address the specific needs of particular industries.