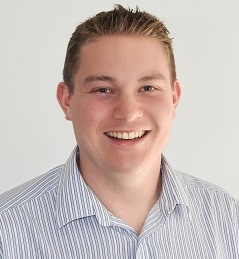 Ibcos Computers Ltd, a leading business management software supplier for agricultural, groundcare, and construction dealers, is pleased to announce its recent hire of Adam Giles, who has joined the Ibcos team as a Sales Consultant, working from the company's Poole office.
This role is a culmination of everything Adam has learned over the past 10 years, having held jobs across a wide variety of companies and industries. He is eager to learn more about the dealers Ibcos works with and the intricacies of its core offering – dealership management software known as Ibcos Gold.
"I'm looking forward to meeting more of our customers, building good relationships, and helping them move forward," said Giles. "This job is a bit different from my previous experiences, which means that I'll be able to pick up plenty of new skills and knowledge."
Right after completing his A-levels, Adam spent three years of his career as a Service Advisor for the aftersales department of a motor group. This gave him the opportunity to work for major manufacturers across several depots, using various dealer management systems to increase labour efficiency, improve customer retention, and streamline processes.
After that, Adam attended university in Southampton where he gained a first-class degree in Criminology. Following university, he spent three years working for a vehicle rental company in the South, where he had advanced to the role of Assistant Manager in just six months and Branch Manager of its third largest location within a year.
Since then, he spent two years as a Business Development Manager in the food service industry, serving prestigious hotels and restaurants. The role allowed him to sample a wide array of produce, meet high-profile chefs, visit markets in France, and work with some of the best producers in the UK.
"The sheer wealth of experience that Adam brings to the table is astounding," said Collette Convery, the Managing Director of Ibcos. "I think he's going to make a fantastic contribution to our team."
Originally from Essex, Adam has lived across Australia and New Zealand until he moved to Dorset in 2004. Father of two young girls, he enjoys cooking, travelling and watching rugby. Ibcos is thrilled to welcome Giles aboard.
Giles can be contacted on:
Mobile:            0044 (0)1202 714200 (Option 2)
Email:              adamg@ibcos.co.uk
About Ibcos Computers Ltd.
For the past 37 years, Ibcos has helped agricultural, groundcare, and construction dealers manage their businesses successfully with Gold, a powerful platform based on industry best practices and standards. Gold has earned its reputation as the number one recommended dealership management software, providing single and multi-depot dealers with a consolidated business overview. With Gold, dealers can make better decisions and predict future outcomes based on real-time data.