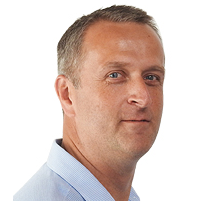 We are happy to announce that Robert Patrick, who's been our data support consultant for nine years, has taken on the role of our new Professional Services Group (PSG) manager, which involves overseeing our product consultants and engineers.
"I've been in the consultant role, doing the same thing, for many years here in Ibcos," said Robert. "I'm definitely ready for a change, especially since I've been in leadership positions before."
Robert has worked in IT for over 26 years, having started in system operations all the way back when computers were still "a dark art." He later on moved into technical and desktop support, which eventually led to his role as a Year 2000 (Y2K) project manager – taking charge of a successful transition into the new millennium.
Robert has also worked for a global loyalty and relationship marketing company as the support and development team leader in application software, interfacing with clients such as Shell, SAS, KLM, Eurotunnel and BAA.
As someone who likes to travel, Robert fondly recalls his time working on a cruise ship as a two-stripe electro-tech officer, which gave him the opportunity to travel around the globe, while managing all of the ship's IT systems – from navigation to EPOS tills.  Luckily, Robert has also done his fair share of travelling while working at Ibcos – visiting places throughout the U.K., Kenya, Tanzania and Zimbabwe.
"I think the amount of experience Rob brings to the table is unprecedented," said Collette Convery, the Managing Director of Ibcos. "Over the years, he's shown that he's not just a great consultant but a fantastic leader as well, which is why we want to make sure that he can fully utilise all of his talents. It'll be great for us and our customers."
Robert currently resides in Poole with his two daughters, though he's originally from Leicester, and has lived all across of the U.K., including London and Aberdeen. He's a fan of different kinds of water-based activities, such as sailing, kayaking, SCUBA diving and swimming. He also claims to be a "keen runner, but not a very good one."
We look forward to seeing Robert flex those leadership muscles in his new position – and further expand his skillset. As far as we know, the job does not require running.