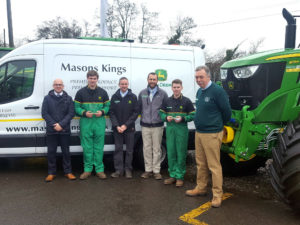 Giving out awards is almost as fun as receiving them, it seems.
That's what Ibcos Sales Consultant Paul Bown got to do at the 2017 Agri Machinery Trade Excellence Awards, where he presented the Dealer Apprentice of the Year (South West Region) Award to Cameron Merryfield and Oliver Cowling from Masons Kings, the South West's leading agricultural machinery dealership.
On Wednesday, February 15, Bown handed each of the joint winners a commemorative glass trophy that recognises apprentices who go above and beyond their dealer's expectations.
Every year, Agri Machinery Trade News, a prestigious industry publication, holds the awards to honour top talent in the agricultural engineering sector. Dealers that enter are eligible for twenty awards, which are judged on a regional basis, excluding four categories, to give dealers of all sizes a fair chance to win.
"Top talent is what allows us all to prosper in business," said Jon Fulcher, the Director of Sales at Ibcos. "That's why we are very proud to sponsor the Agri Machinery Trade Excellence Awards every year. It's a great chance for us to show how much we value dealers and their success."
Agri Machinery Publishing owner and awards organiser Paul Caunce said that both winners "have shown excellent progress on the John Deere AgTec training program that they are enrolled on, and are also excelling in the workshop environment at their local branches."
He added that "they both have excellent organisation and administration skills, which are an absolute necessity for today's agricultural service technician."
"With constantly changing technologies associated with our industry, it is important that we keep attracting suitable young people to the company to maintain our current and future staff requirements," said Chris Bannister, Aftermarket Technical Support at Masons Kings.
"The Trade Excellence Apprentice Awards is an excellent way to raise public awareness and demonstrate that we are reaching these goals. It also recognises the dedication, hard work and achievement of our apprentices, which sets the standard for our junior apprentices."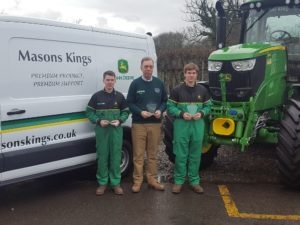 What advice do Merryfield and Cowling have for other apprentices who wish to succeed like they have?
"Work hard for yourself and treat your apprenticeship as the first part of continuous training and knowledge process," said Merryfield. "Any reward or recognition along the way is a welcome bonus."
"Show dedication to your job, product and industry," Cowling added. "A willingness to learn is also key."
We couldn't agree more. On behalf of Ibcos, we congratulate you two!