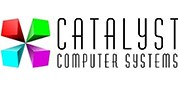 Mountsorrel, Loughborough, September 1, 2020 – Catalyst Computer Systems, a leading business management software supplier to specialised trades and dealers, announced today that it has been acquired by the Perseus operating group of Constellation Software Inc. (TXS: CSU), based in Toronto, Canada. The company will retain its headquarters in Mountsorrel, Loughborough.
Catalyst's acquisition further expands Perseus's presence in the United Kingdom's dealership software markets, having already established a strong presence via its 2012 acquisition of Ibcos – a leading business software supplier to agricultural, groundscare and construction dealers. Overall, Catalyst marks Perseus's ninth acquisition in the dealership software market, and is now part of the Constellation Dealer Group, which includes industry-leading businesses like Integrated Dealer Systems (IDS), Dealer Information Systems (DIS), Ideal Computer Systems and c-Systems Software.
"We are delighted to have Catalyst's employees and customers join the Perseus family," said Daniel Zinman, the Vice President of the Perseus Group. "Catalyst's addition to our portfolio will expand our insight into the industries we already serve in the UK, which will help us pioneer new technologies in ways we haven't thought of."
The acquisition will also allow two of the three founding directors of Catalyst – Charles Allison and Les Ward – to retire, while Catalyst's Sales & Marketing Director, Jeff Kingsbury-Smith, will remain in charge as the Managing Director.
"We've always aimed to be a one-stop shopping service for caravan and motorcycle dealers," said Jeff Kingsbury-Smith, "and I'm happy to say that following the acquisition by Perseus, this will not change. We are still totally committed to putting our customers and our industries first. Their success is what got us here, and it will remain our priority."
As a result of this commitment, Catalyst intends to continue support all the markets it currently serves, including motorcycle, caravan and motorhome, car, logistics and road haulage, retail sales, trade counter and order distribution and agricultural machinery.
About Catalyst Computer Systems
Since 1989, Catalyst Computer Systems has been helping specialised trades and dealers in the United Kingdom manage their business successfully with Platinum Software. This highly versatile product is one of the leading dealer management systems in many industries, including Motorcycle, Caravan & Motorhome, Car, Logistics & Road Haulage, Retail Sales and Trade Counter & Order Distribution.
About Perseus
The Perseus operating group is a provider of software solutions to a number of vertical markets. As an operating group of Constellation Software Inc., Perseus acquires, manages, and builds software businesses which provide specialised, mission-critical software solutions. Perseus companies seek to become leaders in their markets by improving their operations, growing through organic initiatives, and seeking acquisitions that can strengthen their market position.
About Constellation Software Inc.
Constellation's common shares are listed on the Toronto Stock Exchange under the symbol "CSU". Constellation Software acquires, manages and builds vertical market software businesses. Further information about Constellation may be obtained from its website at www.csisoftware.com.