---
Smart Ag Services Defies Downturn with Help of Ibcos Gold
In October 1998, former John Deere employee Colin Smart established Smart Ag Services, supplying agricultural machinery across Dorset, East Devon, and Somerset & Avon. In November 2010, as part of the John Deere "Dealer of Tomorrow" programme, the company joined forces with Ashworth Farm Machinery in Somerset. Smart Ag now has depots in Cheddar and Nether Stowey, and as it continues to expand, it continues to cement its reputation as a meticulous, high-calibre agricultural sector service provider.
We sat down with Smart Ag Finance Director, Chris Payne, and talked about the company's success. We also discussed how Gold has helped them make better financial decisions by staying organised and by getting to grips with the future…
How did you first get involved with the business?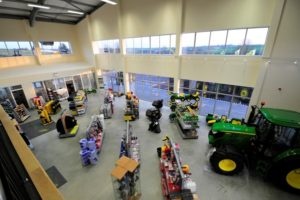 Chris: "Previously, there'd been only one employee dealing with all the Smart Ag finances, but on the recommendation of auditors, they decided to get a second person in to oversee the accounts and to control year-end adjustments. In 2012, as the business continued to grow and cash flow became more critical, I came on board initially as Initiatives Financial Controller and took some of the pressure off Colin."
Tell us a little about the machinery you sell, the services you provide, and what you do to set yourself apart from other John Deere dealers.
Chris: "We sell all John Deere machinery, from harvesters and balers to foragers and tractors. At the moment we deal mainly with agricultural machinery. The service we provide has always been a hugely important part of the business. Colin always understood that if you make your after-sale service a priority, then sales become much easier.
Speedy service and round-the-clock availability is really important to us. When the office is closed, calls are routed to Colin's phone and customers are often shocked when he picks up the phone at 4am. That's an integral part of our service – making absolutely sure that the customer is back up and running as quickly as possible, no matter what."
You've expanded to serve Dorchester, Cheddar, and Nether Stowey. Can you tell us a little about what has led to that growth?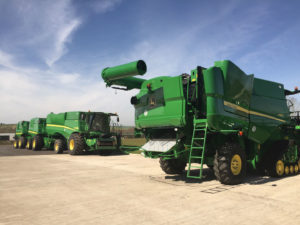 Chris: "When the business was originally set up, we didn't have a lot of faith in multi-depot dealers, which is why a lot of work went into making sure this location served its territory well, which it did, quite successfully. Previously, technicians came in on Monday morning to collect parts and then for the rest of the week they worked remotely in their own territory. That was how we served the area with one location.
When you get to a certain size, however, you realise there is a benefit of scale – you can centralise functions and costs and not double up on certain areas. Using a dealership management system like Gold helps you to do that. Also, there's a better geographical spread of your engineers, which means you can service the customer a lot quicker and improve your reputation as a dealer. That's one of the ways we generated organic growth in the market.
At the end of the day, if you can provide customers with a solution to their problem as well as an affordable price, then you're doing an excellent job and you're likely to expand."
How do you provide the best possible customer experience? What can someone who has never been in your dealership expect when they encounter you for the first time?
Chris: "They can expect that uptime will be as high as possible. They can also expect a very personalised and dedicated approach."
How do you feel the agricultural industry has changed in the past 5-10 years?
Chris: "The market is currently in a state of flux. A decline in commodity pricing has resulted in uncertainty, but people are still buying machinery.
Because of these fluctuations, we tend to run our business from a rather pessimistic perspective, which isn't necessarily a bad thing. Basically, we always try to plan for a worst-case scenario, because we'd much rather be surprised by an upturn in business than by a downturn. So we always anticipate a slump in the market and if there is no slump, then we're better off in the long run. Again, Gold has been invaluable in this by providing us with a complete overview of our business."
What type of dealership management system were you using before Gold?
Chris: "We had Gold from the beginning. Colin is not a very technological person, but he understood the benefits of Gold, so as soon as he founded the business, he had it installed.
Colin recognised that having a good dealership management system with a good accounts package enables you to understand your position. In other words, you know where you are. And once you know where you are, you can see clearly where you're going."
Can you describe how you use Gold on a daily basis?
Chris: "I use it constantly,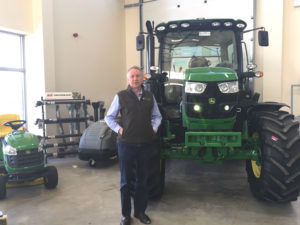 all day, every day, to keep an eye on the profit and loss in the Financial Analysis part of the Wholegoods Sales module. This provides an excellent financial summary from the top down, so at any moment in time, you know exactly where you stand. This is critical in helping us plan and prepare for the future.
I would imagine Colin mainly uses the Wholegoods module, specifically the Document Management System, to manage inventory and deals, and all the business paperwork. Gold stores all of our emails and attachments, so that we can access everything at any moment.
The Wholegoods Document Management System also helps us meet the requirements of John Deere's incentives program. We try to make sure our team emails all documents directly to the Wholegoods module so that all the files are in one place. For example, our technicians will email photographs to Gold as evidence gathering for warranty purposes. Since warranties tend to fluctuate, we now need images of everything and the Document Management module has helped us stay organised.
What we try to do as a business is to make people responsible. We believe in a flat line management style with no hierarchical system. We try to make everyone feel responsible for their part of the business and we make sure to input everything into Gold. This way, we spend less time chasing and tidying up Gold and more time managing the business. Gold definitely helps us spend our time more productively.
What was your experience like with the Ibcos implementation process?
Chris: "On the whole, the implementation went very well. The service was excellent, and the project planning was handled very effectively. We had no complaints. Our overall aim in dealing with any big changes is to ensure the customers don't notice a difference, apart from a consequent improvement in service. Having things done quickly is a big part of that and Ibcos lived up to that expectation."
What are the next steps in your long-term technology strategy as you continue to grow?
Chris: "In the near future, we plan to implement the Ibcos Gold Workshop Scheduler module, which will provide us with better staff management by showing us not only our engineers' diaries, but also a record of all booked jobs."
What kind of advice would you give to other dealers who are looking to grow their business and reach their objectives?
Chris: "I would say that using Gold is critical for managing your business effectively. You need to be aware of where you are and how you're doing on a regular basis, and Gold, when used well, gives you exactly that. For us, as well as an excellent overview at any moment, Gold also gives us a very good feel for the future."